Convert CSV/Excel files to QFX format
Import into Quicken, QuickBooks Online, YNAB or your accounting software
Need to convert your CSV/Excel files into QFX format?
CSV2QFX converter from ProperSoft converts bank, credit card files in CSV/Excel format to the QFX (Web Connect) format.
QFX files are importable by many accounting systems (online or desktop) like Quicken, QuickBooks Online, Wave Accounting, YNAB and many others.
Import into Quicken
Quicken imports QFX (Web Connect) files directly into bank or credit card accounts.
Note: Quicken does not import category details through an QFX file as QFX specification does not have any placeholders for category details. Quicken offers the "categorization" feature during import and the renaming rules to assign categories based on payee and memo details.
Import into QuickBooks online
QuickBooks Online imports OFX files and sometimes QuickBooks may refuse to import your OFX file. Use Bank2QFX to make your OFX files importable. You may also use Bank2QFX to review existing QFX files (look what is inside an QFX file)
Convert your transaction file to a compatible OFX file and import into your accounting system
CSV2QFX tries to parse your CSV/Excel files even if the files are not following its specification. Once the transactions are inside the application, you can convert them to an QFX file following the specification, so your accounting software that could not import a CSV or Excel file, can now import transactions as a QFX file.
Try free
ProperSoft provides free trial (10 transactions limit on the output file) and free support before purchase for all converters, you can verify ALL transactions inside the converter before converting and create a sample file to import into your accounting software to verify before purchase the converter is working. On top of that, we offer 14 days money back guarantee should you experience any issues after purchase and we cannot resolve them for you.
We promise we won't spam, and you can unsubscribe whenever you like.
In March 2017, I was able to convert downloaded financial data files from multiple banks and credit accounts for the whole of 2016 from CSV format offered by those institutions to the QFX format that is importable into Quicken for Home and Business 2017. My goal was to be able generate business financial reports for 2016, including tax deductible expenses, so that I did not have to create them myself in Excel, as I had for many years in the past. My online bank and credit accounts do allow for direct data downloads into Quicken, but most of them limit the data to the last 7 months, which would not have given me all of 2016. CVS2QFX saved me a lot of time in manual entry of the missing data so that I could start benefiting from the Quicken program for the 2016 tax year!

Anne deLain W. Clark (Owner), Stanhope & Clark from G2Crowd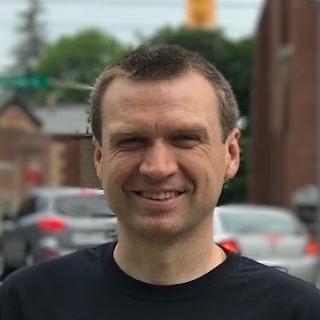 Hi, I'm Sergiy Tytarenko.
I write converters for transactional formats since 2008 and know about all issues and problems QuickBooks, Quicken, Xero and other accounting software have when it comes to importing your transactions.
I live in Whitby, Ontario, Canada since 2003 and originally from Ukraine.